KILIMANJARO CLIMB - RONGAI
KILIMANJARO CLIMB - RONGAI
The Kili Climb is an excitement-filled, once in a lifetime adventure, that will last a lifetime in your memories. This is a 7-night itinerary.
Kilimanjaro is the highest mountain in Africa - it's challenging, magnificent and spectacular all at the the same time. As well as being a challenge, it's great fun, in the company of like-minded fellow travellers.
The Rongai Route is the only route on the north eastern side of the mountain. It is considered to be an easier route up the mountain compared to the other routes and is becoming more and more popular. Accommodation is in camping tents.
Minimum age is 12 years.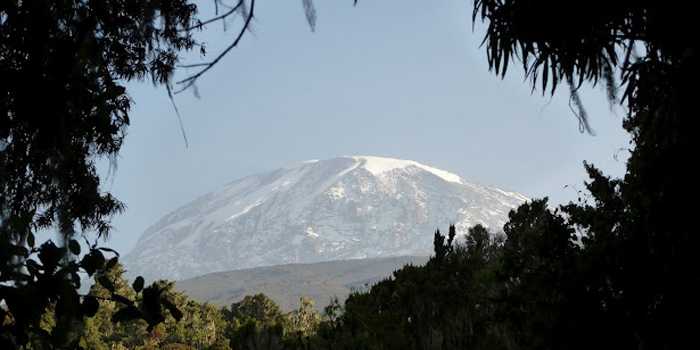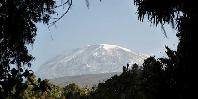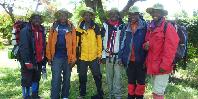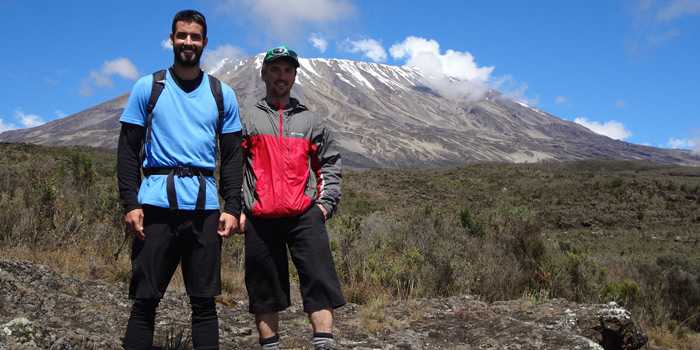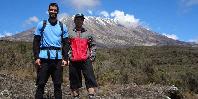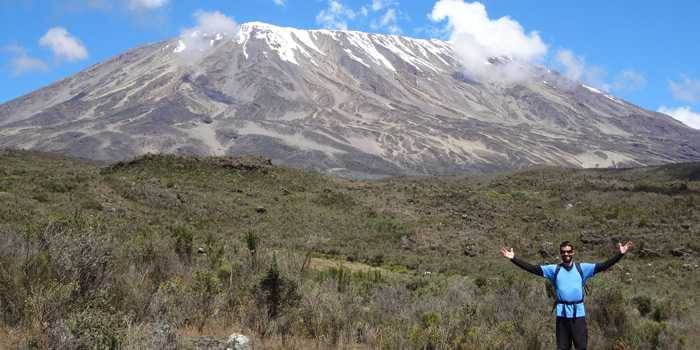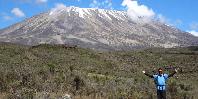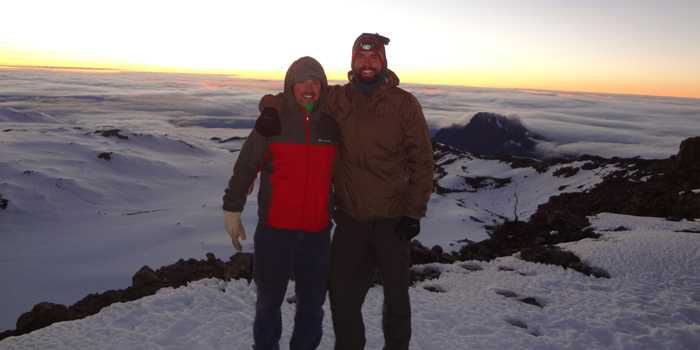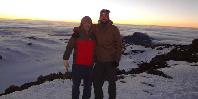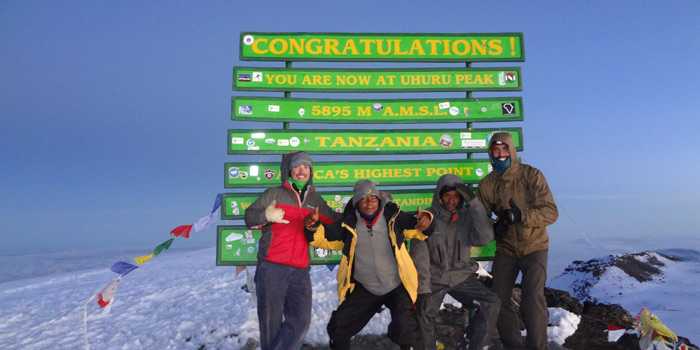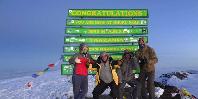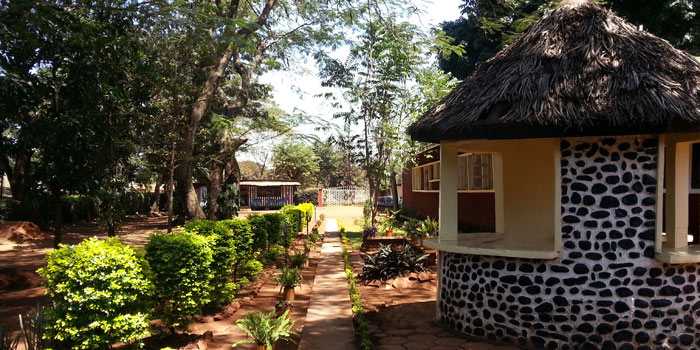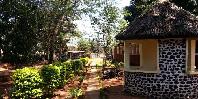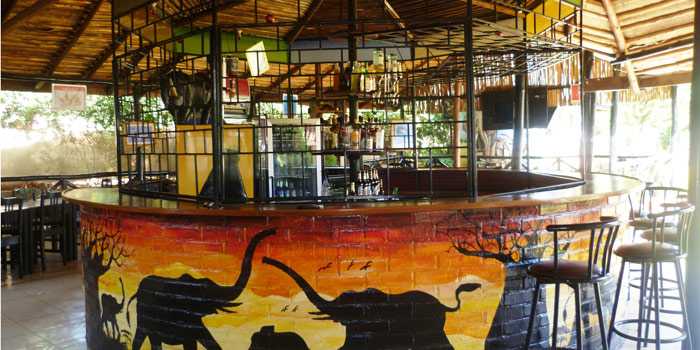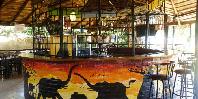 Day 1
Arrive at your base hotel in Moshi. Pre-climb briefing.
Overnight at your base hotel, Chanya Lodge.
Meals : Dinner
Day 2
Breakfast. Drive from your base hotel to Marangu gate for necessary registration formalities. Once completed, proceed to Rongai taking around 4-5 hours in total. The climb starts at the village of Nale Moru (1950m) through fields of maize and potatoes, before entering the pine forest. The climb is steady and gentle through the attractive forest that shelters a variety of wildlife. The forest belt on this section of the mountain is much smaller than on the southern slopes (as you will see on your final day when descending) because of the drier conditions on the northern side. Reach the first cave camp at the edge of the moorland zone (2600m). You will see great views over the Kenyan plains from here. Trekking time will be around 3-4 hours. Picnic lunch en route. Dinner will be served at the campsite.
Overnight: 1st Cave Camp.
Meals : Breakfast, Lunch and Dinner
Day 3
Breakfast. Today's climb will start with a steady walk up to the 'Second Cave' (3450m). Kibo peak and the Eastern ice fields on the crater rim should be clearly visible. Leave the main trail and trek across the moorland on a smaller path towards the jagged peaks of Mawenzi. Picnic lunch en route. The campsite is in a sheltered valley near Kikelewa caves (3600m). Trekking time today will be around 6-8 hours. Dinner will be served at the campsite.
Overnight: Kikelewa Caves Camp.
Meals : Breakfast, Lunch and Dinner
Day 4
Breakfast. Today you will enter the alpine desert zone and actually progress away from Kibo (or so it seems). Picnic lunch en route. A quiet trail towards the camp at 4330m, where the steep rising rock spires of Mawenzi should be in full view, a very photogenic cone. The rest of the day is meant for resting in preparation for the final summit attempt, or you can go for a few short walks that aid the process of acclimatisation. Today you will be trekking for around 5-7 hours. Dinner will be served at the campsite.
Overnight: Mawenzi Tarn Hut Camp.
Meals : Breakfast, Lunch and Dinner
Day 5
Breakfast. This is the start of your summit attempt (which will be at midnight tonight). Today is a relatively easy hike across the wide saddle between Mawenzi and Kibo. The ground underneath you seems very different, and the ascent is relatively level until you approach Kibo. Trekking time will take around 5-7 hours. On arrival at Kibo, the chef will prepare your 'last meal' around mid-afternoon. It is recommended to sleep after dinner until your guides wake you for the summit attempt around midnight.
Overnight: Kibo Camp.
Meals : Breakfast, Lunch and Dinner
Day 6
At midnight (00:00am) you will be woken by your guides for the summit attempt, this allows you to reach the summit for around sunrise, and still give you time to descend in the daylight. You will walk in single file, ascending in a zigzag pattern (because of the steepness) through the scree and entering the arctic zone of the mountain. The climb to Gilman's Point is probably the most daunting section of the Rongai route, mainly because of the altitude, darkness, and many hours of walking prior to this, however, there are no technical difficulties. Keep pushing forward and consult the guides regarding any altitude sickness, they are trained to notice symptoms of mild, medium and high altitude sickness and will be able to advise you if you can continue ascending, or if you should stop and descend.

Determination will take you to Gilman's Point at 5710m. Here you will take a short rest and those who are still feeling strong can continue to Uhuru Peak at 5895m. At Uhuru peak (once you take the pictures with the sign board) you will not stay for long, our guides advise on a maximum of 10-15 minutes, then you should begin your descent to Horombo. The scree feels very lose underneath you and you may find it is harder to descend than to ascend. Two walking poles come in useful here and the guides can show you a trick to almost 'ski' down. You follow the same path you used to ascend until Kibo campsite where you will have a hot lunch. Continue descending until the junction for Rongai/Marangu route at the top of the saddle, continue towards Horombo through the heather and moorland until Horombo camp at 3700m. The walk from Kibo to Gilman's usually takes around 5-6 hours, the walk to Uhuru a further 1-2 hours and the descent to Horombo around 6-7 hours. Dinner will be served at Horombo camp. Enjoy a well earned rest for the night.
Overnight: Horombo Camp.
Meals : Breakfast, Lunch and Dinner
Day 7
Breakfast. This will be your final day on the mountain. You leave Horombo and trek through the Mountain forest until Marangu gate. Picnic lunch en route.
Overnight at your base hotel, Chanya Lodge.
Meals : Breakfast, Lunch and Dinner
Day 8
Depart after breakfast.
Meals : Breakfast
Easier route
Stunning views
Great adventure