Our CSR Work
At Somak Luxury Travel we have a deep affinity for the environment and the local communities that surround all of our destinations. Our approach to Corporate Social Responsibility is to support initiatives and enrich and nourish the economies, environment and communities in Africa and South Asia.
Loigero Primary School
The Loigero Primary School is located close to the entry gate of the Masai Mara and serves the Masai community of Talek. The school stems from small beginnings, when its founder, Jacob Nkumum, taught small group of boys under an acacia tree.
It is thanks to the donations and support of local and international businesses, including Somak Luxury Travel, international charities and tourists that the school continues to thrive. The school is now able to offer a meal for every pupil, and the next phase is to build a dormitory so that pupils from neighbouring communities can also attend the school.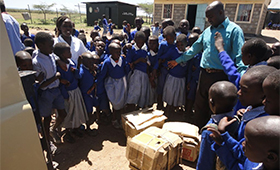 Born Free
The Born Free Foundation was founded by Virginia McKenna OBE and Bill Travers following their starring roles in the classic film 'Born Free'. Today, led by their son Will Travers, Born Free takes action worldwide to protect threatened species and stop individual animal suffering.
Somak Luxury Travel are committed to conservation, and we work with partners like the Born Free Foundation to promote the continued survival and advancement of Africa's wildlife. We care, not only because our industry relies on wildlife, but also because we have seen firsthand the damage that has been done already in our almost fifty years of existence. We know that action must be taken now to ensure that the wildlife we love is there forever.
Somak Luxury Travel are working to help the Born Free Foundation to build lion-proof bomas which protect and save the lives of both lions and livestock in Kenya. We have also launched two fantastic itineraries which offer the chance to meet the local communities who are benefiting from the lion-proof bomas and to help the fundraising efforts in order to build more.
These itineraries include a Born Free Safari, which offers the chance to visit some of Kenya's most famous safari destinations, as well as gain insight into how Born Free helps local communities and the surrounding wildlife; & a Born Free Kilimanjaro Climb, offering the opportunity to climb Africa's highest mountain to raise money to support Born Free's Boma building projects.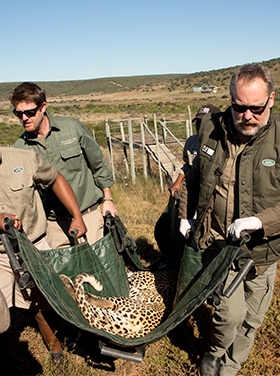 Amref
Somak Luxury Travel is a proud Kenyan company, and over the years has grown to be a leading tour operator in East Africa. East Africa is our community, and our home - and we are committed to supporting those that live there.
This is why Somak Luxury Travel includes complimentary Amref Flying Doctors 'Maisha' Air Ambulance cover with every holiday to East Africa. For every passenger that travels with us, we contribute $5 to Amref Health Africa, one of the leading health development agencies on the continent. When this cover is not needed, we will donate the full value towards this inspiring organisation.
Amref Health Africa works with marginalised and vulnerable people across Africa to deliver preventative, community-based health care. Focussing primarily on women and children, they work side-by-side with the people living in those communities to build the knowledge, skills and means to transform their health and break the cycle of poverty. Headquartered in Nairobi Amref Health Africa is a truly African organisation and it is their promise to:
> Improve the lives of disadvantaged people in Africa through better health,
> Bridge the gap between communities, health systems and governments,
> Become a leading voice for advocacy for health system reforms in Africa.
Amref Health Africa does inspirational work in East Africa that we recognise as integral to our region and its growth. This is why we are proud to support them, and are eager to ensure that those who book with us know about their work, and help contribute to the communities they are visiting, and grow to admire.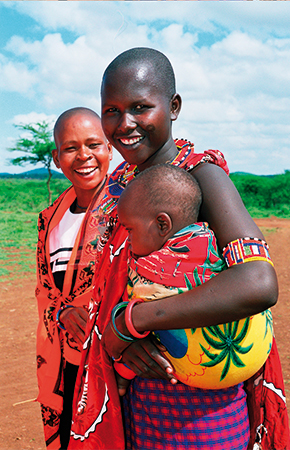 No Hunting Holidays
Somak do not take bookings for those wanting to participate in the trophy hunting trade. We remain committed to watching wildlife in its natural habitat, and believe that a modern safari goer shoots the "big five" with a camera, and not a gun.
With recent controversies like Cecil the Lion being killed by a trophy hunter, we are concerned that African tourism is receiving an unfair negative portrayal. This is why we feel it necessary to stand up and be counted as an African tour operator that believes in protecting wildlife.
Rest assured that your booking with us, is a booking with a company that cares about wildlife, and not one that supports, actively or tacitly, the exploitation of the animals and ecosystems that make a visit to Africa so special.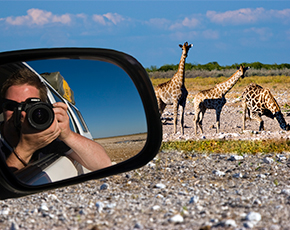 Tusk
Tusk is a dynamic and pioneering organisation with 25 years of experience initiating and funding conservation, community development and environmental education programmes across Africa.
Since its formation in 1990, Tusk has invested more than £25 ($40) million into a wide range of projects across the continent.
Tusk currently supports more than 60 field projects in 19 African countries that not only work to protect wildlife, but also help to alleviate poverty through sustainable development and education amongst rural communities living alongside the wildlife. Tusk's aim is to forge an inextricable link between the preservation of Africa's natural heritage and the future of its land, culture and people.
Protection of wildlife remains a key objective with substantial funding being applied towards threatened species such as elephant, rhino, lion, cheetah, gorilla, African wild dog and giant sable.
By partnering with local organisations, Tusk is combining conservation, education and community programmes to make positive change - one step at a time.
HRH the Duke of Cambridge became the charity's Royal Patron in 2005 and has been a proactive supporter of Tusk's work ever since.
Somak were more than happy to send three Landcruiser vehicles driven by professional driver/guides who assisted with the transfers of the runners during the 2016 Safaricom Marathon, which year upon year raises great sums of money for the Tusk Trust.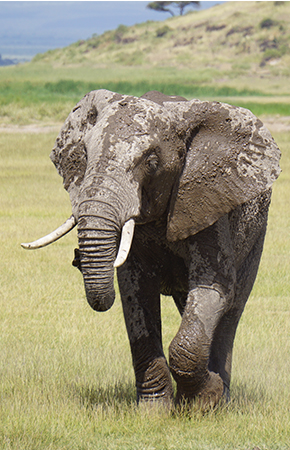 Dreams Come True
In 2016 Mairead was diagnosed with Hodgkins Lymphoma and was offered the chance to pick the holiday of her dreams. She is a veterinary student with a passion for animals so didn't hesitate to choose a safari in Africa. She spoke with her family and friends and they agreed that Kenya was a very good option, particularly with a relaxing beach stay at the end of the safari.
Dreams Come True contacted us to see if we could help to make Mairead's dream become a reality. We were absolutely delighted to help in any way we could, particularly as we are also passionate about wildlife and Kenya. We organised the safari with the addition of a hot-air balloon ride over the Masai Mara, plus a relaxing 5 nights beach stay in Mombasa.
It was beyond a pleasure to work with Dreams Come True to make Mairead's trip, in her words: "honestly one of the best experiences of my life".
We at Somak would like to thank Dreams Come True for their unstinting work in bringing pleasure to these unwell children and young adults.
Mairead kindly allowed us to interview her after her trip - read what she had to say here
Mara Rianda Charity
Somak Luxury Travel has been a leading tour operator sending visitors to Kenya for over 50 years, and we have always strived to give back to the East African community, through charity and conservation. We are committed to continually supporting a number of projects in order to improve education and health services in the community.
We are delighted to be associated with The Mara Rianda Charitable Trust whose ethos aligns perfectly with that of Somak's.
The Mara Rianda Charitable Trust was founded by Richard Long, who, in 2003, travelled to the Masai Mara and visited the Mara Rianda Primary School and learned about its needs, which were many. Since then Richard has returned at least twice a year to assist the school and local community.
The Trust has since broadened its reach to include maternity and medical care and more educational projects.
Somak Luxury Travel are committed to supporting the Mara Rianda Charitable Trust. For each package holiday booked to Kenya we will contribute £20 per person towards the charity and its good causes. Please see The Mara Rianda Story