KERALA EXPERIENCE
Kerala in the far south of India has a charm and gentleness unlike anywhere else in India. Here you can be as relaxed or as energetic as you wish.
There are wonderful beaches to stroll on, beautiful backwaters to explore, cultural experiences by the score, and delicious local cuisine to be savoured.
On this tour you will visit the delightful areas of Kochi, Periyar, Kumarakom and Kovalam. Kochi is spread across islands and promontories in a stunning location between the Arabian Sea and the Backwaters. The city was founded in 1341 when a flood created a natural safe port, which became the principal harbour for Malabar Coast's spice trade. Cochin was on the main trade route between Europe and China. The rulers invited people of various religions to settle here, attracting the Jews and the Christians who built places of worship and their own communities. Strictly speaking, Cochin is a small town, but it has outgrown its original bounds and is now the general name given to much of the region adjoining the original town, which now includes Mattancherry, Fort Kochi, Ernakulam and many other nearby towns and villages.
Periyar in Thekkady is South India's most popular wildlife sanctuary, encompassing an area of 777 sq km. Set on the attractive man-made Periyar Lake, it attracts over 300,000 visitors a year. Though the sanctuary was made a part of Project Tiger in 1973, it is better known for its elephants.
Kumarakom is an unbelievably beautiful paradise of mangrove forests, emerald green paddy fields and coconut groves interspersed with enchanting waterways and canals adorned with white lilies.
Kovalam is an internationally renowned beach with three adjacent crescent beaches. It has been a favourite haunt of tourists, especially Europeans, since the 1930s. A massive rocky promontory on the beach has created a beautiful bay of calm waters ideal for sea bathing. The leisure options at this beach are plenty and diverse: sunbathing, swimming, herbal body toning massages, special cultural programmes, catamaran cruising etc. Life on the beach begins late in the day and carries on well into the night.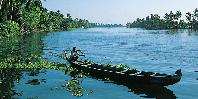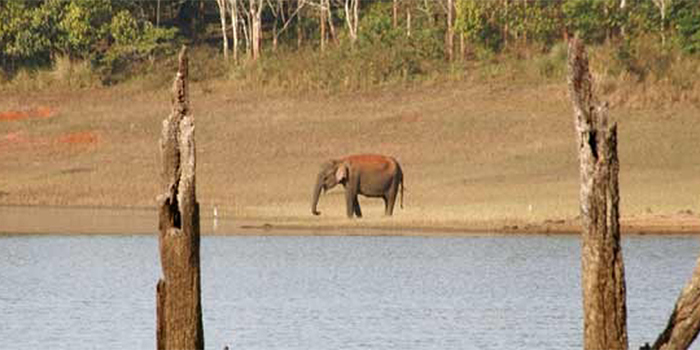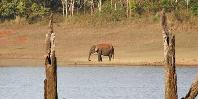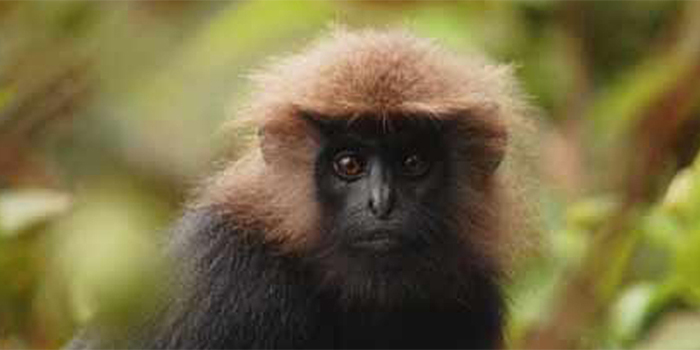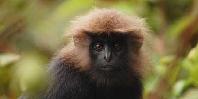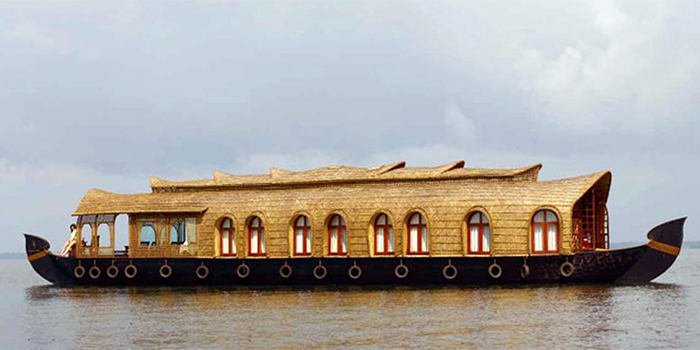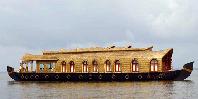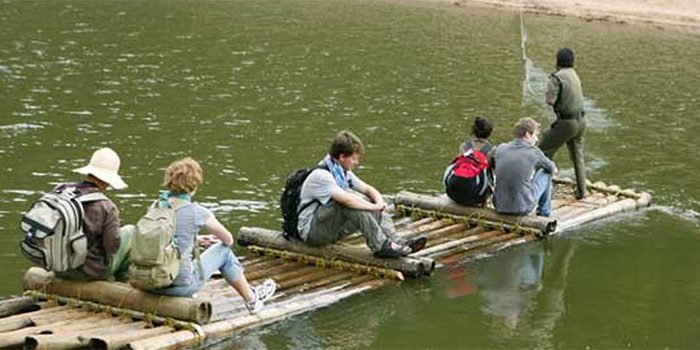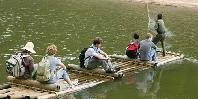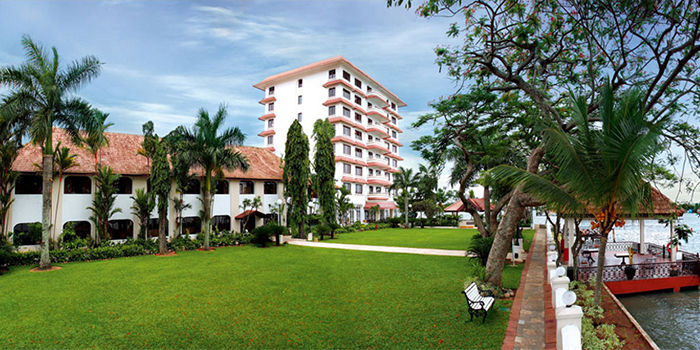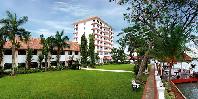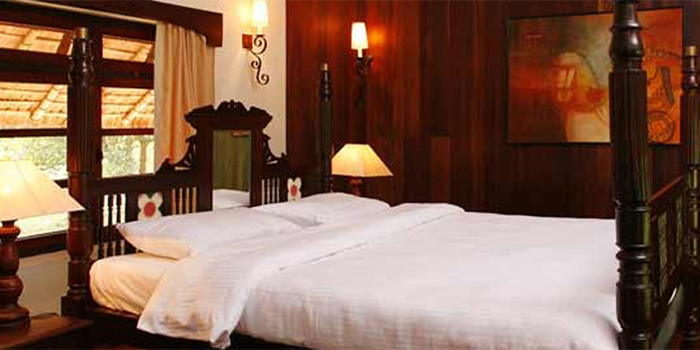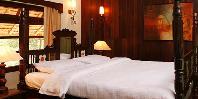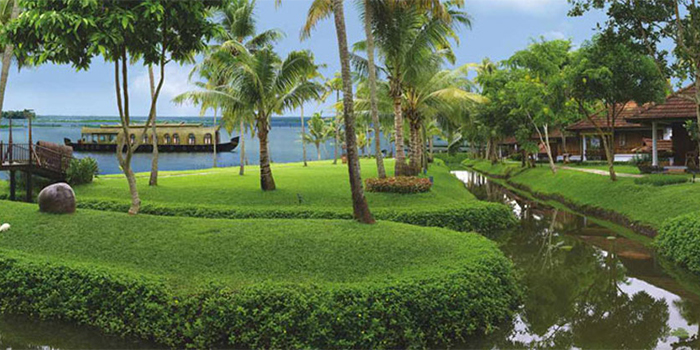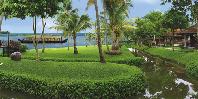 Day 1 Kochi
Met on arrival at the airport and transferred to your Hotel on Willingdon Island (45 km, approximately 1 hour).
Overnight :
Taj Malabar Resort & Spa, Cochin
Meals : Breakfast
Day 2 Kochi
Today you will enjoy a tour of Cochin - Kochi Nivasi (resident of cochin). This unique tour will make you a resident of Kochi (long known as Cochin) for a day. At 9am you will be driven to Fort Cochin to visit The St Francis Church, the oldest European Church in India, Vasco de Gama the first European traveller to India was originally buried here.
Visit the Chinese fishing nets. Then take an autorikshaw ride (tuk tuk) to Mattancherry. The Dutch Palace at Mattancherry is renowned for its wall murals. Visit the Jewish Synagogue (Friday and Saturday closed) at the heart of what is locally called Jew Town.
At about noon take the local bus from Mattancherry to Broadway (40 minutes), the famous wholesale market. The bus journey is a thrilling experience passing through the bridges, narrow roads and finally the Mahatma Gandhi Road. Broadway is the final word in wholesale shopping in Cochin; you name it and you get it here.
A stroll along Marine Drive, a long tree-lined coastal pathway that lines the backwater reveals the bustling backwaters, dotted with fishing boats, speedboats, ships, tankers and passenger boats. At 3pm enjoy a motor boat cruise for 45 minutes around the harbour area. At 4pm travel to Ernakulam South Railway station, one of the busiest train station in Kerala. In the busy evening hours, you will see thousands of passengers busily moving around to catch their train after the day's work. Then return to your hotel where you can relax and perhaps enjoy a spa treatment or massage.
Overnight : Taj Malabar Resort & Spa, Cochin
Meals : Breakfast
Day 3 Kochi
At 4.30am transfer by car (40 minutes) to the nearby village of Kuthiyathode. Then a 20-minute tuk tuk ride to the fishermen's beach where you witness the boatmen bringing in their fresh catch for auction. En route visit coir yarning and mat weaving units. Later continue your drive to reach the beautiful farmhouse set by the backwater. Here you will enjoy breakfast and have the chance to interact with the family and exchange experiences, plus enjoy a brief introduction to some of the heritage relics in the house. Later a 2 km rickshaw ride will drop you at a point for a short village walk. A 10-minute walk will bring you to the local Panchayath ferry. Later walk through the paddy fields/prawn farms, a paradise for bird watchers. Continue on your rickshaw for another 4 km to reach the fish market. Return to the farmhouse at 11.30am, where you can freshen up, have a tender coconut and will be transferred by auto rickshaw to your car and to your hotel.
In the late afternoon, proceed to a local theatre where you can witness a live performance of Kathakaly dance and other performing arts of Kerala.
Overnight : Taj Malabar Resort & Spa, Cochin
Meals : Breakfast
Day 4 Periyar
After breakfast drive to Periyar (190 km). En route enjoy lunch at Kanjirappally Estate Bungalow, a 125 year old Heritage home now inhabited by a Syrian Christian family. Enjoy typical Syrian Kerala cuisine with the family. Continue the drive to Periyar. Check in at your hotel. In the evening witness Kalaripayattu (martial arts) performance at a local theatre.
Overnight: Spice Village.
Meals : Breakfast
Day 5 Periyar
Set out at 7.30am for a half-day bamboo rafting experience. Travel past a mosaic of habitats before boarding the rafts made of bamboo. The forests are rich in bird life and arboreal animals like giant squirrel and Nilgiri langur. Rafting lasts for about three hours revealing a panoramic view of forest-clad hills reflected on the lake. Elephant, gaur and sambar are usually seen keeping close to the edges of the lake. The team hikes back to the boat landing at about 12.30 pm. This tour is excellent for nature lovers to feel the beauty of nature.
In the evening proceed for an elephant ride through the spice plantation followed by a tour with a naturalist. You will get first hand information on the various spices like cardamom, pepper, cinnamon, clover and nutmeg. Learn to cook with spices at our evening cookery class. The focus is on Kerala cuisine, with the accent being on (of course) the effective use of spices.
Overnight: Spice Village.
Meals : Breakfast
Day 6 Kumarakom
After breakfast drive to Kumarakom (125 km, approximately 4 hours). Check in at your hotel. Situated on the Vembanad Lake, in this small water world you'll come across plenty of traditional country crafts, boats and canoes which will take you into the heart of the scenic lake.
Overnight: Lake Resort.
Meals : Breakfast
Day 7 Kumarakom
Enjoy a morning at leisure. At 12 noon board a houseboat for a cruise around the backwaters on Vembanad Lake. Houseboats, popularly known as 'Kettuvalams', are converted from traditional rice barges. While cruising to Alleppey you will see glimpses of village life around the backwater area. You can see the palm-lined bank and narrow strips of land that separate the waterways and the constant quiet traffic of valam (small boats) are typical. Lunch and afternoon tea and snacks on board the houseboat. Disembark at approximately 4pm.
Overnight: Lake Resort.
Meals : Breakfast and Lunch
Day 8 Kovalam
After breakfast, drive to Kovalam (185 km, approximately 4.5 hours). Check in at Niraamaya Retreats Surya Samudra which is surrounded by lush greenery and the Arabian Sea. The hotel effortlessly blend weathered wood with contemporary luxury, offering a perfect balance between old world charm and modern day comfort. Indulge in a long shower in an open-air bathroom. Bask in the sunlight by the pool, breathe in the heady scent of jasmine, or just sit on the verandah and watch the waves gently kiss the shore. You can indulge in one of a variety of treatments at the Niraamaya Spa.
Overnight: Niraamaya Retreats Surya Samudra.
Meals : Breakfast
Days 9-11 Kovalam
For the next 3 days you are free to relax and enjoy the many attractions and facilities at the resort.
Overnight: Niraamaya Retreats Surya Samudra.
Meals : Breakfast
Day 12 Departure
Transfer to Trivandrum International Airport (45 minutes ) for your onward travel arrangements.
Meals : Breakfast
This private tour can be tailor-made to your own specifications with a choice of alternative accommodation, and duration.